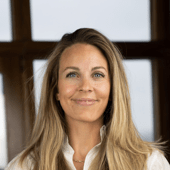 Anna Bäckarlin
CSR & Sustainability Manager – People & Culture
What do you like most about Voyado?
Working at Voyado in a strong expansion phase is truly both exciting and developing. It is great to hang out with all the fantastic colleagues -both in different job projects but also at the Voyado gym, on the running track, or at the ski slopes in the Åre Office. I'm also extra passionate and proud about our project in Kenya where we have built an education center and now support women and girls with education and scholarships.
What do you do in your role as CSR & Sustainability Manager?
As a CSR & Sustainability Manager, I work with all three dimensions of sustainable development including economic, social, and environmental sustainability (ESG). Everything from doing our yearly Sustainability report to measuring and improving our carbon footprint and working with our diversity and inclusion policies and projects. I also work closely with the non-profit organization From One To Another where we together work for every girl's right to education in Kenya.