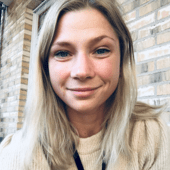 Emma Book
Talent Acquisition Manager – People & Culture
What do you like most about Voyado?
The best thing about Voyado is no doubt the people and the welcoming and open culture. Everyone is allowed to be themselves and our differences are embraced but at the same time, you really feel the togetherness and will to do great things. It's the combination of feeling right at home and comfortable, but at the same time being challenged and encouraged every day by highly skilled and ambitious people. 
What do you do in your role as Talent Acquisition Manager?
As Talent Acquisition Manager I am, together with my team, responsible for everything related to talent acquisition within Voyado, for example, recruitment, talent attraction, and employer branding. A big part of that is to closely collaborate with different hiring managers within the organization coaching and supporting them in different situations connected to talent management.