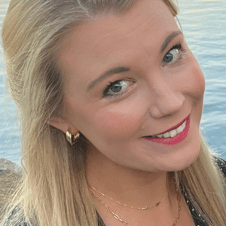 Linda Ersbacken
Marketing Manager UK – Commercial
What do you like most about Voyado? 
The people! I think why I've stayed for 4 years now is because Voyado has such a friendly culture. My colleagues are also my friends which makes going to work every day so much fun. Voyado is growing so rapidly so my role keeps evolving and it's never boring!

What do you do in your role as Marketing Manager UK? 
As the Marketing Manager for UK, I'm responsible for making sure potential new Voyado customers in the UK hear about us and see our brand in this new market. We do this by sponsoring events, creating intriguing content, advertising to the right people and more. Entering a new market is a fun and challenging task that keeps my job interesting, every day!