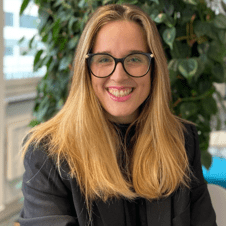 Tove Verngren
Director Sales Development – Commercial
What do you like most about Voyado? 
The fantastic people, all Voyadoers, that create the fantastic atmosphere at work and make sure we have fun together. We are a growing company but what I really like is that the entrepreneurial feeling is still kept which makes me feel that everthing is possible and the initiatives everyone come up with truly encourages. Then I truly love our product and that we are building the future of a customer experience.
What do you do in your role as Sales Development Director?
I have the privilege, to everyday work, with the most dedicated, committed people in the company who bring in new meetings for potential customers, the Sales Developers. What our role is all about is to find relevant companies to contact, give them the first pitch, by email, phone, LinkedIn, with the goal to book the meeting. It's our team that make sure we get that first foot in the door. We do this together with the marketing and partner team. I'm spending my time coaching the team, building smart ways of working that help increase our targets and building collaborations with other departments. I also work on developing the SDR:s so they have a good growth trajectory within Voaydo. Succeeding in my role is definitely to help the SDR:s grow and making sure the future lies within Voyado. I'm also all about having fun at work and making sure that we celebrate our results. Because one thing is for sure, being an SDR today is tough, there is so many reaching out and trying different approaches everyday. So we make sure to celebrate all the things that lead us closer to a meeting!