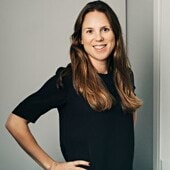 Erica Sandelin Ekelund
CFO – Finance, Legal & Business Development
What do you like most about Voyado?
The culture - for sure! One of our core values is "We are in it together" and that is present in all the teams. The company would never have been able to reach the phenomenal growth that we have without all the support and collaboration between the different teams. This mentality is always present, in setbacks and success.
What do you do in your role as CFO?
The role of the CFO at Voyado is very broad. The core mission of the Finance team is to make sure that there are financial data, including KPIs, available so that the board, management, and teams can take the right operative and strategic decisions.
When it comes to strategic decisions and initiatives, I work together with Business Development and Strategy (which are part of the financial team) to find new opportunities for Voyado to develop, both short- and long-term. 
Our Legal department, which is also a part of my business area, makes sure we are compliant with current requirements and legislation.