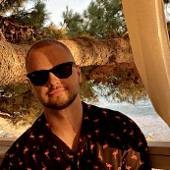 Dino Curovac
Sales Engineer – Commercial
What do you like most about Voyado?
The best thing about Voyado is the exciting journey we are on! With that comes the the constant opportunity to challenge yourself and chase new accomplishments together with your colleagues, while having fun along the way.

What do you do in your role as Sales Engineer?
As a Sales Engineer I support our sales organisation and potential customers with everything from product knowledge and solution architecture to implementation experience. I also initiate and manage internal projects that aim to decrease sales velocity and improve our sales processes in all ways possible. I also help out the product team understand the challenges our potential customers experience in different markets, so it's a great mix of sales and tech!