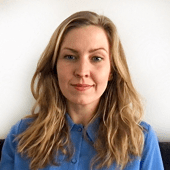 Raïssa de Boer
Knowledge Engineer – Product Development
What do you like most about Voyado?
The best thing about Voyado is that you get to work with the best and the brightest, learning constantly while having fun along the way.

What do you do in your role as Knowledge Engineer? 
As a knowledge engineer my aim is to turn data into knowledge. I do this by linking product types and their properties together into a huge web of interconnected concepts, or 'ontology'. The ontology plays an important role in our knowledge-based search engine, where we elevate the product discovery experience of visitors of our customers' e-commerce websites.