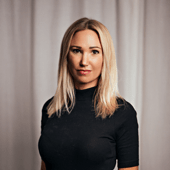 Malena Kirs
Key Account Manager – Commercial
What do you like most about Voyado?
It's definitely all the people who are extremely good at what they do! At Voyado we really care about doing the best work we can and go the extra mile for our customers. That, together with the fact that we are growing in a fast pace meaning there are lots of things happening around you are really the best things about working at Voyado. 
What do you do in your role as Key Account Manager?
I work closely with our customers and do my best to make them get the most out of our product. I want to grow together with our customers and be their counterpart when they need to reflect on ideas related to the product and Voyado.