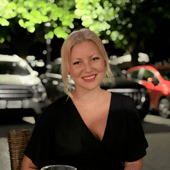 Jennifer Johansson
Head of Professional Services - International – Services
What do you like most about Voyado?
The best thing about working at Voyado is that I get to spend my days with all of our amazing colleagues. We have a very friendly can do attitude where we always help each other. One persons problem becomes everyones problem, that we solve together as a team. We also combine work with having fun together, when we have time in between meetings or work tasks, we sit down to play a game on the playstation, ping-pong or try to beat the highest score on our flipper table. I get to spend my days with challenging work that motivates me together with colleagues that are not only very talented, they are very fun to hang out with, that is the best thing about working at Voyado!

What do you do in your role as Head of Professional Services?
At professional services we ensure that our customers get a smooth onboarding experience where we help and guide them in implementing our products in the best way. We get to meet customers with all sorts of challenges where we get the chance to help find solutions to their issues and act as advisors. In my role I get to work with Implementation Managers, Specialists and Front-end developers that all join forces to help our customers. I spend my days ensuring that the team gets the best prerequisites possible to be able to provide the best solutions for our customers, and together with the team we actively work on challenging our processes to always give our customers the absolut best onboarding experience with Voyado!