Product Development
·
Lund
·
Hybrid Remote
Frontend Engineer - TypeScript
I guarantee you that you have used Voyado Elevate - Let me tell you what we do and then join us in shaping the future of e-commerce.
We usually respond within a week
Summary

The application development group is looking for our next colleague to help drive our SaaS platform forward in product development. You will work closely with e.g. Christian Svensson, Marcus Hannerstig, and Gergely Kudó in creating value for our customers by gaining insight into our users' needs and building new features that tackle their day-to-day obstacles and gremlins.
Voyado is one of the fastest-growing SaaS companies in Sweden and rapidly expanding in Europe. We are the leading tool for retail and eCommerce companies that want to personalize communication and customer experiences. We work with top brands daily to deliver the best possible experience for them and their customers.

What is Voyado Elevate?
Voyado Elevate is a product discovery engine that harnesses the power of AI to improve the customer's e-commerce site. With deep product knowledge, shoppers' real intent is understood and served every time.

Elevate automatically reacts to historical customer data, business goals, and real-time events so the customers get a relevant online shopping experience.

The Elevate Application, which you'd be working on, is where merchandisers can gain control of how Elevate works.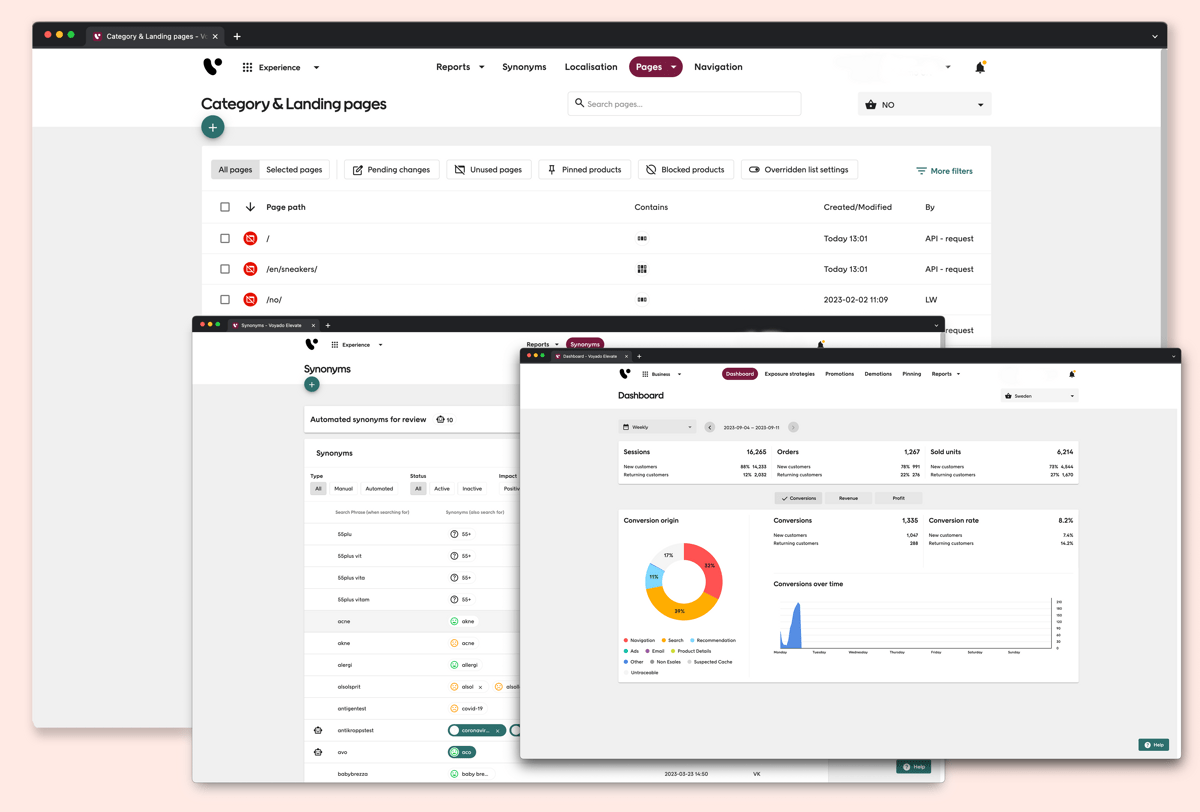 About the Role and day-to-day
Every day hundreds of merchandisers and E-commerce managers use our application to control and gain insight into their e-commerce store. As a software engineer on Voyado, you and the team will have to focus on developing and delivering the best experience you can. We do not strive to push out features as fast as possible but balance delivery with beta testing and user expectations.

And when the time comes when you need a break why don't you go and play games in our relaxation area like some pool, or ping pong or why not challenge our Åre office in Call of Duty on our PlayStation 5? 🎮 
So, who are you?
You have a genuine interest in tech, you like to try new ways and share your skills and knowledge with your team. We also believe you are a real doer and humble team player.

Strong knowledge of JavaScript / Typescript
2+ years of professional experience in frontend application development
College degree or bachelor's degree in Computer Science or similar, alternatively a comparable industry career.
Understanding of programming patterns like:

Dependency injection
Singleton
Decorators
Observers

and most importantly, passion for what you do
Some of the technologies you'll get to work with
Voyado Elevate is built with Angular and kept up to date with the latest version, For tooling and other projects we use Deno 🦕 and Fresh 🍋
Angular and Fresh
NodeJS and Deno
Typescript
AWS
Git (Gitlab & Github) 
So, what's in it for you? 🍬
Voyado Elevate wouldn't be the powerful platform it is without the people behind it. We care about you and some examples of what we can offer you are:
Work-life balance – We don't have a long work-hours culture, we value results over hours worked
Flexible working hours and a office first hybrid work approach
As we strive for our employees to share Voyado's passions and goals you should demand no less from us, with regular one-on-ones we make sure your needs and career have a great future at Voyado.
Joining an engaged team and colleagues with a knowledge-sharing and friendly culture
Some of our benefits:
A health hour each week, use it for walks, running, or working out – whatever you need to energize
30 days of vacation so that you can spend time with family and friends
5000 SEK in wellness allowance
Encouragement to further develop personally and professionally with certifications, meetups, etc.
Beneficial bike lease, including e-bikes
Your choice of phone and gadget package
Be yourself   🏳️‍🌈
At Voyado, we believe in gender equality. We are proud sponsors of Womengineer as well as Tjejer Kodar! read more about Tjejer Kodar & Voyado here
Equality is not only about gender but also about making everyone feel welcome and heard in a multicultural and diverse environment, We at Voyado strive to make everyone feel like they can bring their true self to work every day.
We believe gender-equal and diverse teams have more perspectives on life and bring more different ideas to the table. that in the end lead not only to making a better working environment but also a better product.

Ready to find out more?

Lovely! 🎉 
Before one applies it can always feel like you need a better resume, more polish, or just another year of experience, but I say if you think this sounds like a place you can shine don't hesitate to send in your resume!
Use your LinkedIn profile (or upload a resume/CV) and answer a few easy-to-fill questions. We'd love to get to know you and understand what makes you tick, so write a few lines about what you enjoy about your current role and what would be an exciting challenge for you in the future. We are eager to get to know you and what you love to do, so be yourself and let your passion shine through in your application!
Department

Role

Development

Locations

Remote status

Hybrid Remote
About Voyado
Voyado is the ultimate solution for personalization and relevance across all channels—online and offline. Used by retailers and e-commerce companies worldwide, the Voyado customer experience cloud makes it possible for every brand to engage customers, elevate shopping experiences, and evolve their own businesses.
Product Development
·
Lund
·
Hybrid Remote
Frontend Engineer - TypeScript
I guarantee you that you have used Voyado Elevate - Let me tell you what we do and then join us in shaping the future of e-commerce.
Loading application form