Sales & Marketing
·
Stockholm
Key Account Manager, Nordics
Are you a tech-loving client manager who get your kicks out of creating value for customers, establishing relationships, finding new opportunities and helping the customers reach their full potential?
Voyado is a fast-growing company that operates and develops a data-driven SaaS platform within Marketing Automation, CRM and Loyalty. We are the leading tool for retail and eCommerce companies that want to personalize communication and customer experiences. Voyado have for several years been the go-to solution in the Nordic countries and we are now growing rapidly in new markets such as the UK and the Netherlands. Want to know more about our future expansion plans? Read about our latest news about partnering up with Verdane and our acquisition of Apptus.

If you are ready for your next adventure and want to join our team on our expansion throughout Europe and have an interest in marketing, eCommerce, retail and tech - keep reading and check out some of our customers.



About the role
As our new Key Account Manager, you will be the primary go-to person for your customers inquires and responsible for establishing and maintaining client relationships while ensuring their future growth with Voyado. Your focus is to create an understanding for the customers IT-landscape in order to better support their long-term strategies.
You will be part of our growing Key Account Management team in Stockholm that has a fun spirit and work in an environment characterized by entrepreneurial atmosphere in high tempo. We spend most of our time at the office but meeting our clients face to face is a big part of our job – taking part of their journey, introducing features that will benefit them short or long term and gathering insights that help us in developing new awesome features. We do this by meetings, workshops and training sessions (also known as Voyado Academy).
Customer satisfaction is part of our DNA and we strive for building long lasting and professional relations. You will be working closely with the biggest retailers in the Nordics and focus on growing our presence in the region. 


Your responsibilities
Coordinating support for our Nordic clients
Creating client strategy
Introducing and selling new features to clients
Securing retention among existing clients
Creating, developing and maintaining business relationships with customers and partners
What we offer you
You will be part of an extremely exciting journey in redesigning the market for personalized customer experiences. We want to make our product Europe's leading loyalty system in retail and e-commerce, and together with our customers we are well on our way. We are extremely dedicated to the task, but at the same time we ensure that everyone is doing well at work. You will have plenty of room to grow in a creative work environment where personal development is as obvious as high competence. You get to work with some of Sweden's strongest brands that use Voyado as a platform for their loyalty work, and your everyday life has elements of collaboration with both customer and delivery teams.  
So, who are you? 
A curious, humble, customer-centric and inclusive team player with a solution-based approach. The hunger to learn new things is a core value, especially in the dynamic environment where you will operate. You enjoy a varied and challenging job in a quickly expanding company and have an interest in tech, retail and the digital transformation of commerce.
Skills/Background 
Preferred experience from retail, e-commerce, CRM or digital marketing
A degree with techy orientation (University or vocational education doesn't matter)
Work experience as well as theoretical to practical knowledge of e.g. CRM, Cloud based applications, Martech or analytics
You speak Swedish – but since we are planning to take over the world you must be comfortable with technical and business English, both in speech and writing.
Ready to be part of the team? Lovely! Applying is super easy! Use your LinkedIn profile (or upload a resume) and answer a few click-in questions (no data entry, we promise). We´d love to get to know you and understand what makes you tick, so write a few lines about what you enjoy about your role and what would be an exciting challenge for you going forward. We are eager to get to know you and what you love to do, so be yourself and let that shine through in your application!
Additional information 
As part of our recruitment process we conduct a background check on the final candidate. We use background checks from Scandinavian Recruitment Intelligence. Here you can read more about how a background check is done.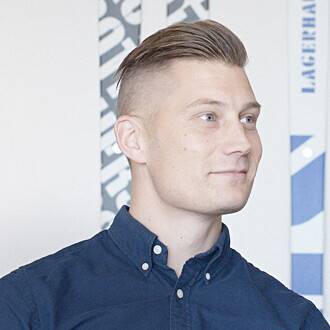 About Voyado
Voyado is the leading SaaS platform in the Nordics for marketing automation, powerful segmentation and cutting edge AI and machine learning – all baked into one wonderful interface with the mission of Making brands easy to love. With Voyado our customers reach over 130 000 000 end consumers.
Sales & Marketing
·
Stockholm
Key Account Manager, Nordics
Are you a tech-loving client manager who get your kicks out of creating value for customers, establishing relationships, finding new opportunities and helping the customers reach their full potential?
Loading application form